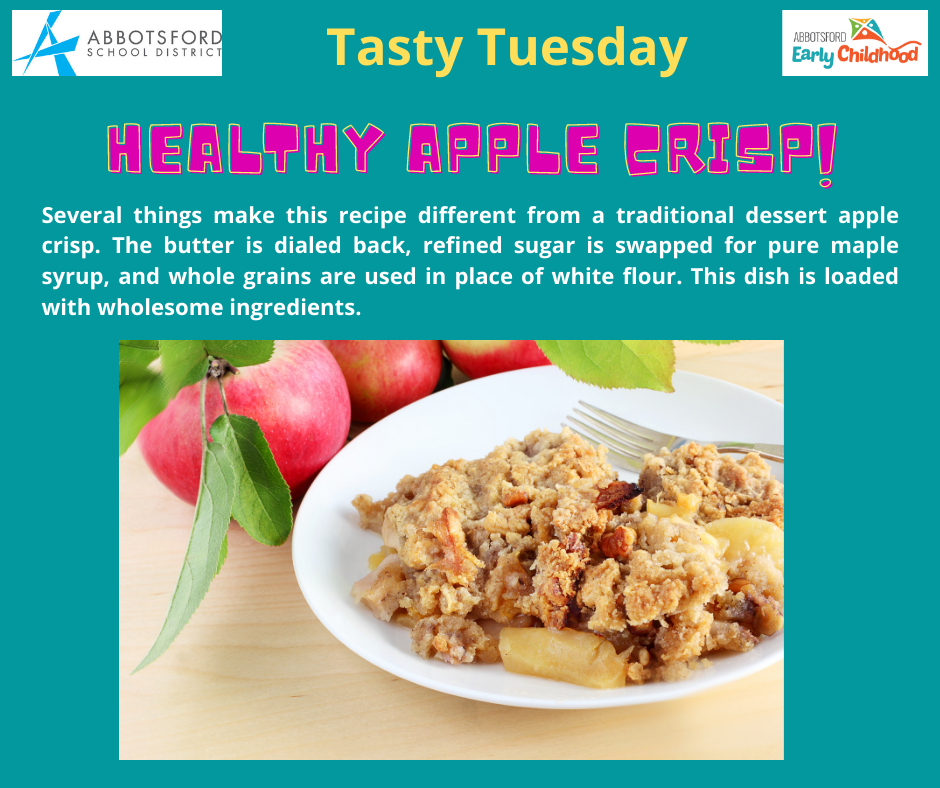 Several things make this recipe different from a traditional dessert apple crisp. The butter is dialed back, refined sugar is swapped for pure maple syrup, and whole grains are used in place of white flour.

This dish is loaded with wholesome ingredients.
Filling:
3 pounds apples,(cored and thinly sliced) , 3 tablespoons orange juice, 3 tablespoons pure maple syrup, 2 tablespoons corn starch, 1 teaspoon ground cinnamon
Topping:
5 tablespoons unsalted butter, melted, 1/4 cup pure maple syrup, room temperature, 3 tablespoons milk, I used skim, 1/2 cup white whole wheat flour, 2 cups old fashioned oats, 1/3 cup finely chopped walnuts, 1/4 cup unsweetened coconut, Maple syrup, for serving, Yogurt, for serving
Instructions
Preheat oven to 375°F. Lightly grease a 9x13 baking dish. Set aside.
In a large bowl combine all filling ingredients. Toss until well combined. Transfer to prepared baking dish.
Wipe out the bowl and add melted butter, maple syrup and milk, stirring or whisking to combine. In a separate bowl, combine flour, oats, walnuts and coconut. Add to the butter mixture and stir until well combined. Sprinkle the topping evenly over the apples, pressing some pieces together to form larger clumps. Bake for 55-65 minutes, until the apples are tender and the topping is light golden brown (see note). Serve warm with yogurt and a drizzle of maple syrup.
Recipe Credit: Celebrating Sweets